New Painting Release: The Gift
Nov 26, 2019
There is no other place,
Nothing but Her kind embrace...
---
I am still overflowing with joy after the special release event we had in honor of this painting last week... to unveil it... to commune with it in a ceremonial way... to introduce its potent medicine to the community in a manner that felt really authentic and vulnerable and powerful. All good ingredients behind a worthy share.

I've been developing methods we can use to communicate and engage more fully with the art I create, and facilitating ritual is an exciting new part of the journey. Finding a way to combine all the modalities I'm super interested in (art, music, and ritual to name a few) hasn't been an easy process. It has challenged me to my very limits, and rightly so. Figuring out a way to explore and present our gifts requires a lot of courage and dedication, and by no means is it easy. Anyone creating anything is constantly confronted with the question, "Who am I to do this?" And we have to show up day after day and say, "Who am I NOT to do this?
And so the journey continues, my friends...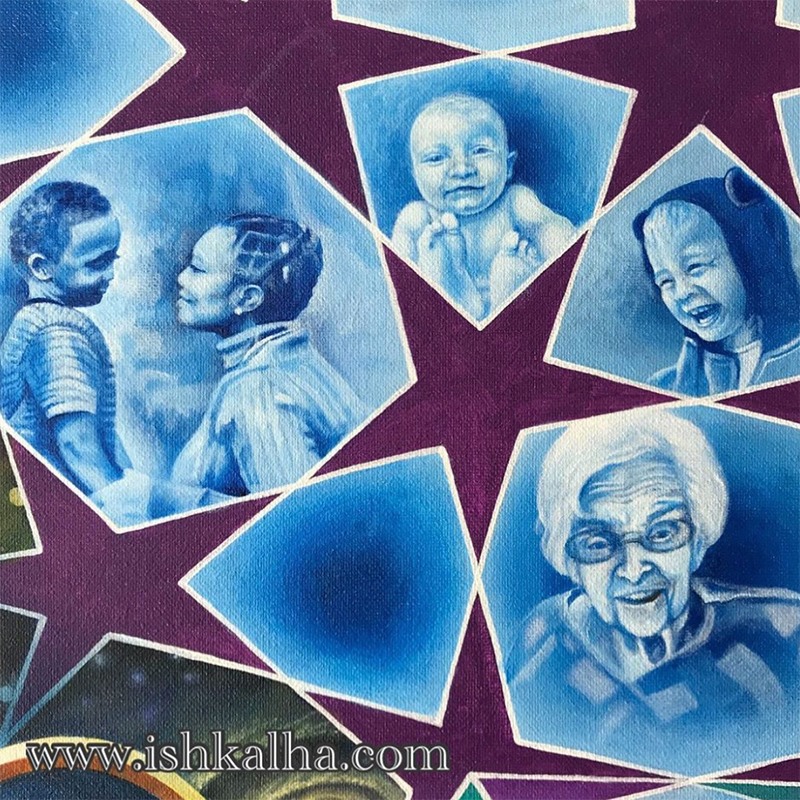 This painting was originally a commission I did for a woman who wished for me to paint her prayers by incorporating herself as the subject, with aspects of Kuan Yin, Mother Mary, and Yemaya, woven throughout--all powerful emanations of the Divine Mother found in the Buddhist, Christian, and Yoruba religions, respectively.
This painting is a prayer for us all to be able to access and embody the Divine Mother more fully in our lives, to help us embody greater compassion for ourselves and others, and to take good care of the blessed children on this planet-- not just the children we bear, or the ones around us, but also of the childlike nature within each of us, that innocence and sense of play with wild abandon.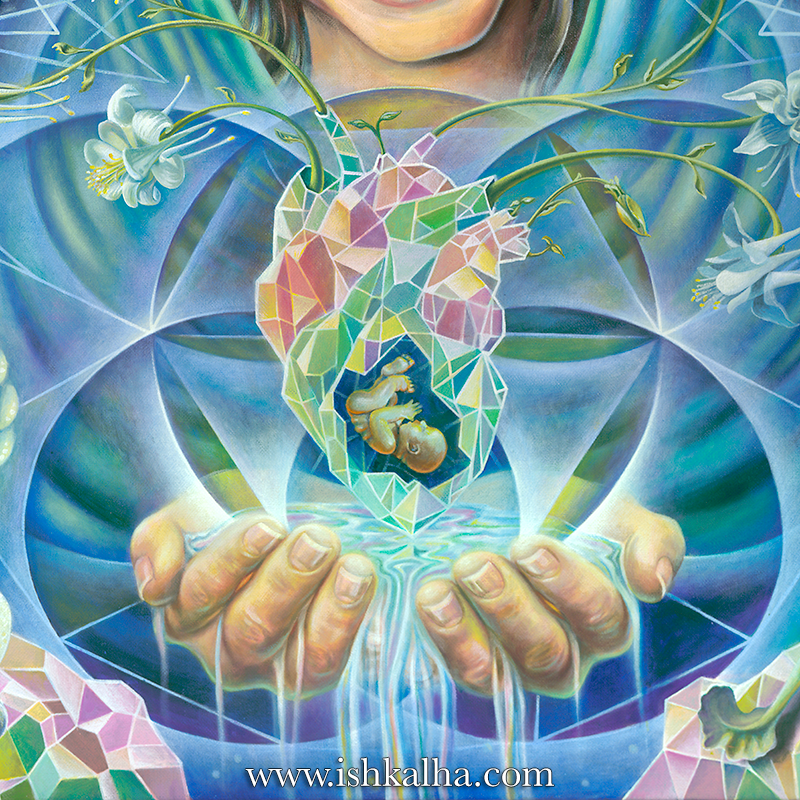 For some, this art represents the hope of creating a family. For others, this imagery might hold space for someone coming to terms with not being able to have children, or to help cope with the loss of a child. This piece also celebrates our midwives of children or ideas, or the feeing of personally giving birth to a new idea or project. For everyone, this art is an invitation to bring forth what we truly love, to move forward with tenderness and grace, to recognize what's fertile, and tend to that; and no matter what, to be kind with ourselves throughout the process, whether we are birthing some-thing or being reborn ourselves. Birth comes in many forms.

The Divine Mother knows what new life is ready to emerge.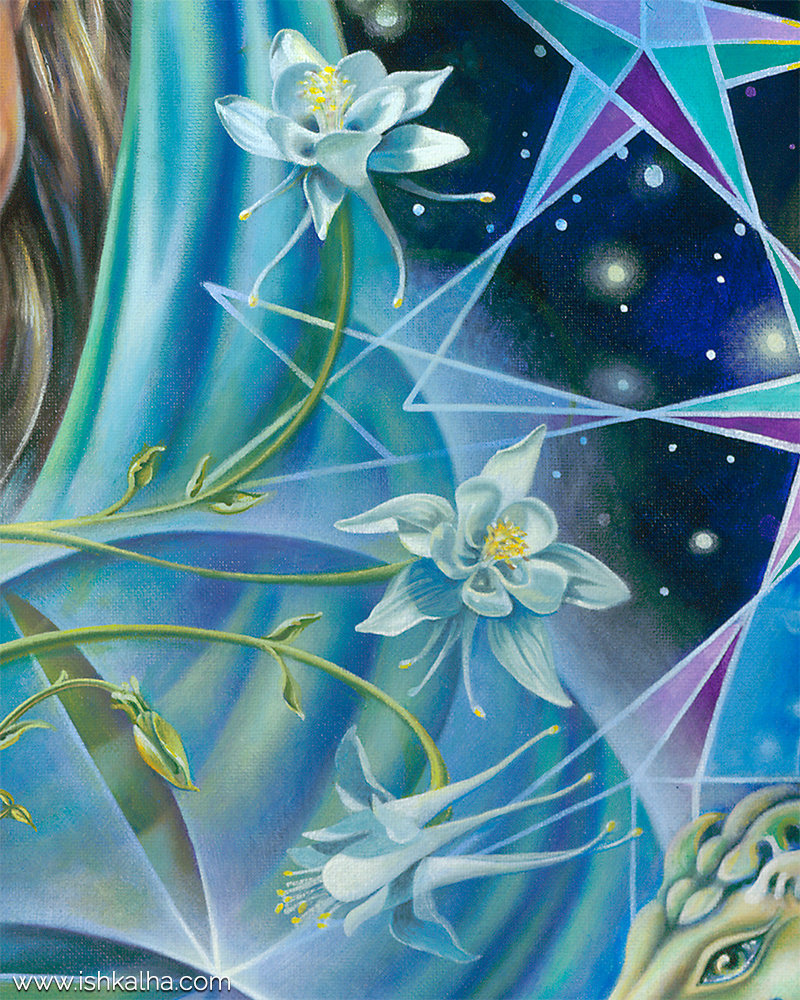 When I say "Divine Mother", I'm speaking of those qualities of "mother" which we need and hold most dear, distilled down to their most simple yet profound essence. Divine Mother is archetypal in nature, it is the fundamental baseline frequency of what it means to mother or be motherly in the most universal sense of the word.

The Divine Mother energy, when depicted through symbol and form, radiates unconditional love and compassion, a feeling of being held and supported through all of life's moments of beauty and pain. It is a knowing gentle smile, a listening gaze, a tender touch, a caring gesture... welcoming arms. The face of compassion. A guiding, safe, and protective force. A feeling of being seen and accepted for all that we are.

"She" is the vital and loving embrace of all creation, the womb of creation, the waters of life, the gift of life.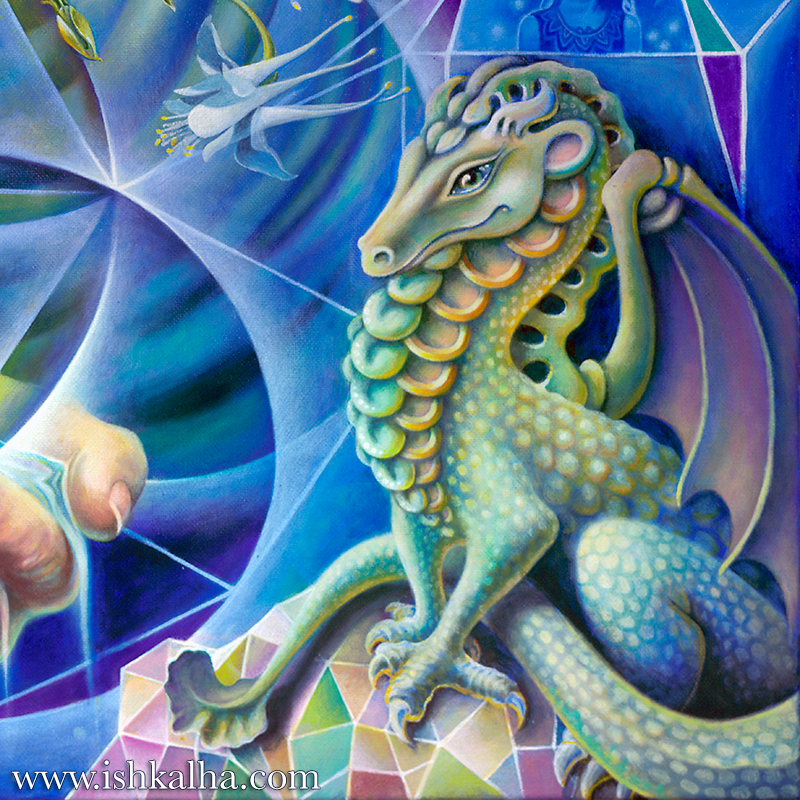 This is what the essence of mother is in our heart of hearts, on a deep cellular level. We know this to be true perhaps without even knowing why, for She dwells within our collective consciousness. We can embody or call upon the Divine Mother energy whenever we choose, whenever we need, regardless of whether we identify as male or female. She is a potent key to our awakening, and She is available to all of us at any moment. She is a part of you. She IS you.
---
To order a print of this painting, please click here.