New Painting Release - Indigo
Jul 18, 2020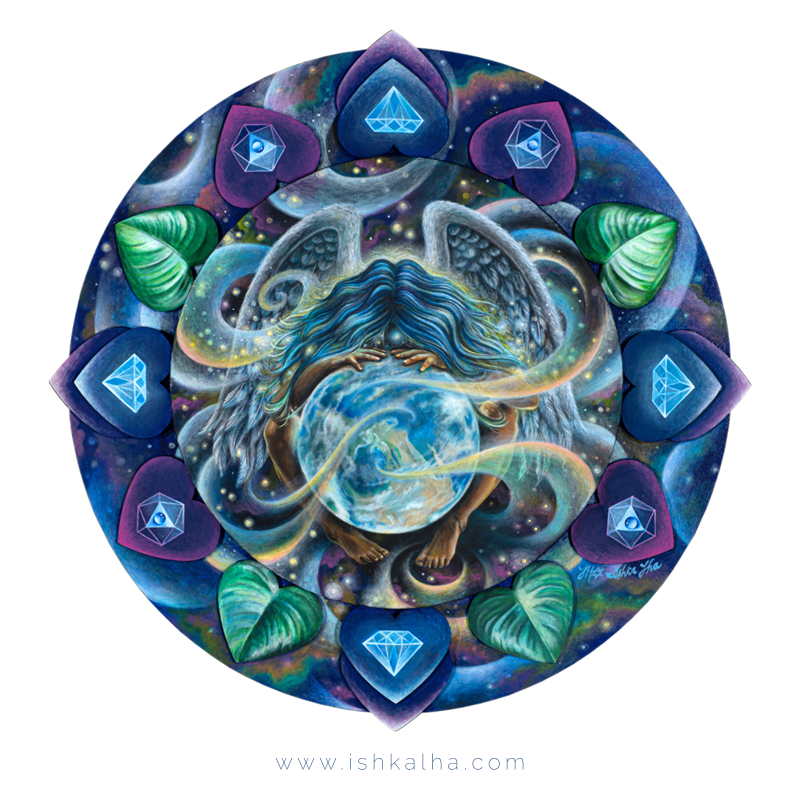 Indigo


The one heart elixir is for despair and for glory,
Tears fall like diamonds in this never-ending story,
The return of the light,
And the name that is remembered,
Will restore us all to oneness in the long cold December...

As so much of our world has been and continues to be in flux, I've been carving out some moments to paint, during which I have been pouring my heart into this new little work of art, Indigo. I finished it on Summer Solstice, actually, but am just now releasing it, on this glorious new moon in Cancer. I started this painting on our first day of quarantine in Berkeley, after marinating with the myriad responses I got from the question I posed to all of you, "What do you need right now?"

I wanted to know what prayers lay upon your tongue in the midst of a global crisis unfolding, so I could put them to canvas, of course.

I received many beautiful answers to my query, so thank you for that. Not only did your comments give me great creative fodder for this particular work, but sharing our prayers with each other in the midst of massive change can also be a soothing balm of calm for everyone.

I sat with all your responses, brought them all together into a single meditation until a vision presented itself, and got to work.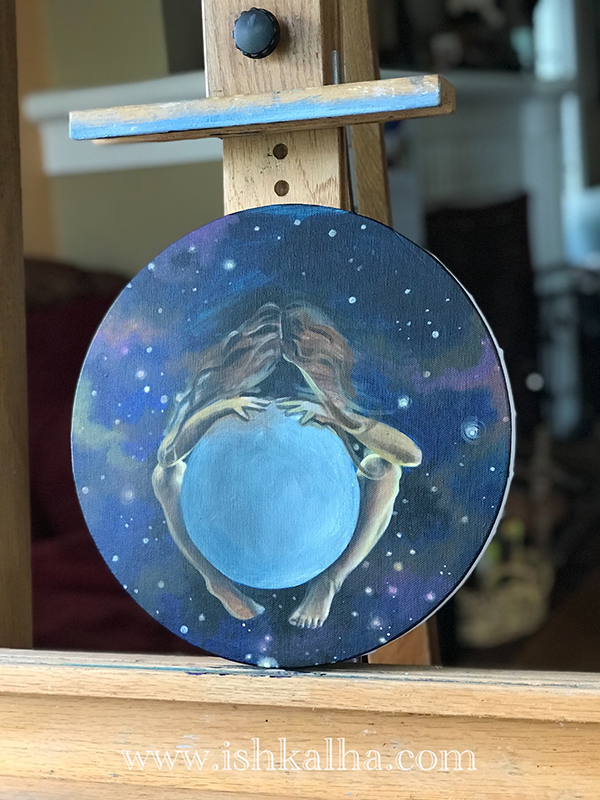 The beginning of quarantine felt like a pretty dark time, and my desire to paint something was so visceral, so strong, that I made haste to the canvas—my solace, my cauldron, my respite, my service.

As you know, my art is all about intentional creativity, and one thing I know for sure is that whenever I paint, I am saying yes to magic—to awe-inspiring, life affirming, hope giving magic. I have time for nothing else.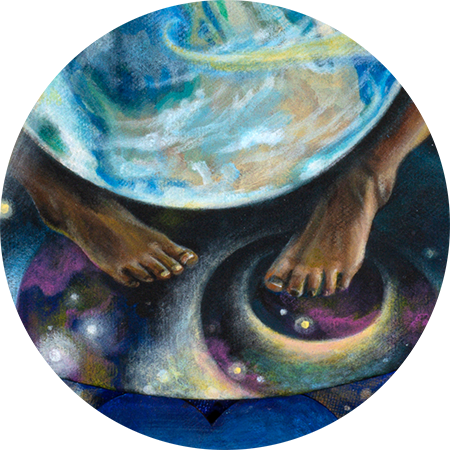 My family and I experienced a lot of painful transitions when the pandemic hit. March and April were so intense, and I lost my footing more times than I could count. My stress levels got massively spiked.

But—this is a global situation, and I was also noticing the beauty in that fact. Many of us have been negatively impacted by this virus in more ways than one; and essentially, we've all been living out this trauma together in real time. Even though I'd prefer for none of us to go through this weird sci-fi reality at all, my pain lessened by noticing I wasn't alone in my tribulations.

I also began to notice how the physical separation we were all experiencing didn't feel so isolating—it actually felt unifying. And that when anyone (whether it was someone I knew well or a stranger on the street) would avoid contact with me, it was an act of great care and love.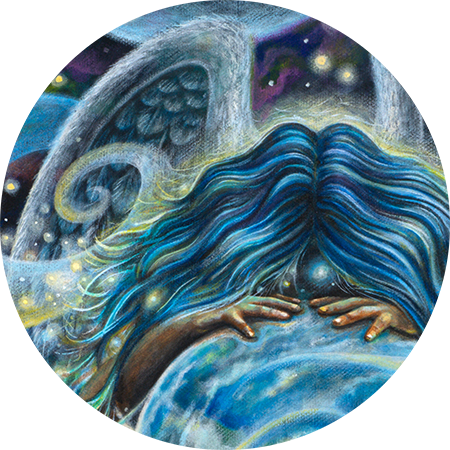 Not only have I taken comfort in knowing we are all in this together, but I have also been feeling grateful that our dear mother earth has been getting a much needed break. This massive human reset has given her a chance to breathe. Clear skies. Less cars. Factories on pause. The go-go-go of humankind has been on hold.

This moment of pause has given us the chance to consider what's really worth doing, to take a look at what's working and what's not, to re-evaluate our goals, and get a new pulse on our dreams.

Hopefully we've all been realizing what's more sustainable, and setting our compass toward creating more simple, brave, and lasting beauty.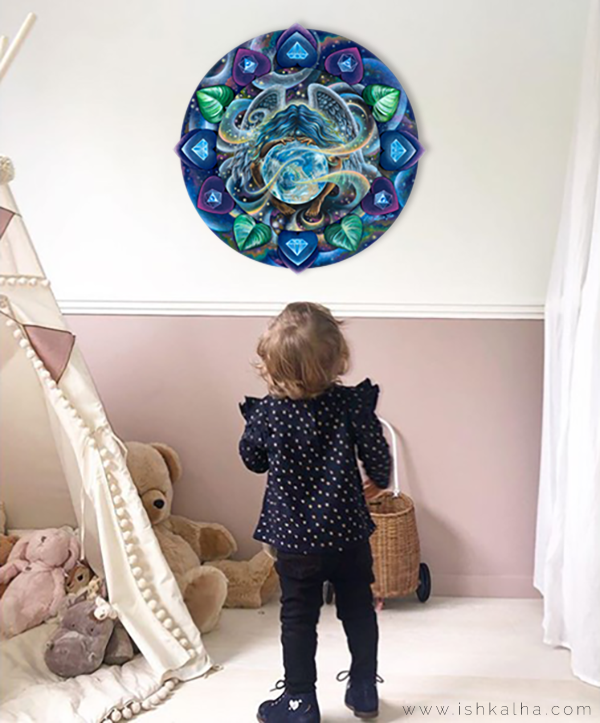 My Creative Process
If you'd like to go even deeper into the behind-the-scenes on this painting, read on. I love sharing my creative process with you as well as the inspiration behind my work.

I painted Indigo on two layers of stretched canvas and sixteen small heart-shaped wood cutouts. I mounted a 12" round canvas on top of an 18" round canvas using wooden cross-bracing in the back, akin to the supports on a medicine drum. My husband and I did a little prayer for each direction as we affixed each piece on the cross, using screws with star shaped heads to hold it all in place. I incorporated the wooden hearts on the outer circle, and as a good friend reminded me, the words "heart" and "earth" have the same letters, and that always makes me smile. I layered two hearts at each of the four directions.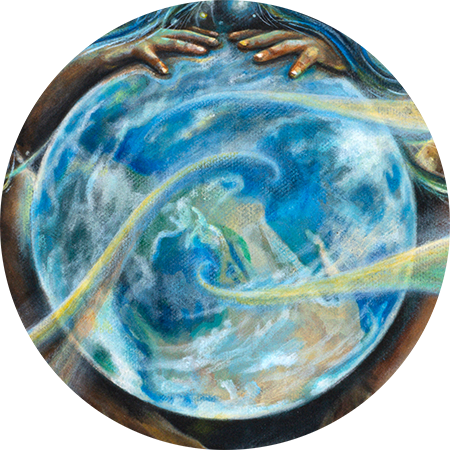 I painted the earth with north facing down (North America faces the viewer), because this time in our lives feels so upside-down. And yet, if you think about it, north and south are really so arbitrary, when you realize that earth is this tiny ball flying through space, spinning round and round—who's to say which way is "up" anyway?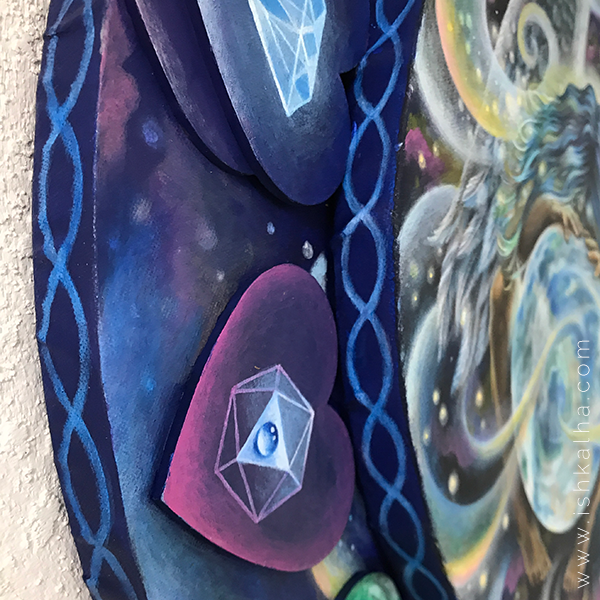 In my visioning meditation, I could feel a grid of healing light surrounding the central figure. At first, I thought I was to paint an actual line grid, but was later guided to incorporate this energy into the painting in the form of starlight, the wings, the swirls of rainbows coming through the cosmos to earth, the sine wave strands illuminating the outside edges of both canvases, and the orientation of the wooden hearts with the icosahedrons and diamonds.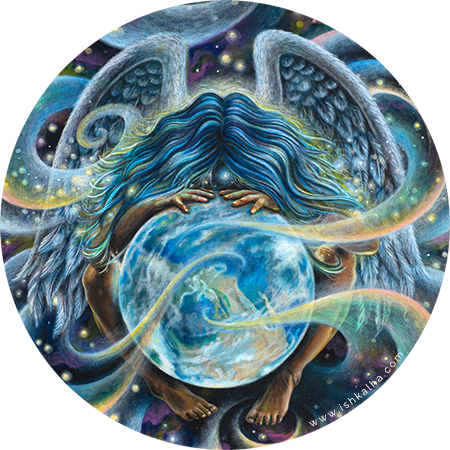 This figure holding the earth was the most prominent part of the the vision I received when I sat with all your prayers in meditation (luckily, I was able to find a photo to use as a reference to get the anatomy just right). This childlike angelic being represents such a wide range of emotional experiences for me. I've felt many stories emerge each time I sit with her. She's just so rich with metaphor.

Most significantly, however, when I ask her why she is here, I see her deep in prayer, and I can hear her song.

She embraces the earth with a precious and powerful love, with energy from the stars and the purifying element of water... she is the guiding force of empathy, streaming with diamond tears and moon rivers of calm. She is the dream walker's path, the star singer's song... blue as the sky, blue as the ocean, blue as the stone that speaks with pure love in motion.

She, and all the details of this painting, are the magic and grace that is Indigo.