New Drawing: Threading the Needle (DFW #4)
Apr 30, 2021
*|MC_PREVIEW_TEXT|*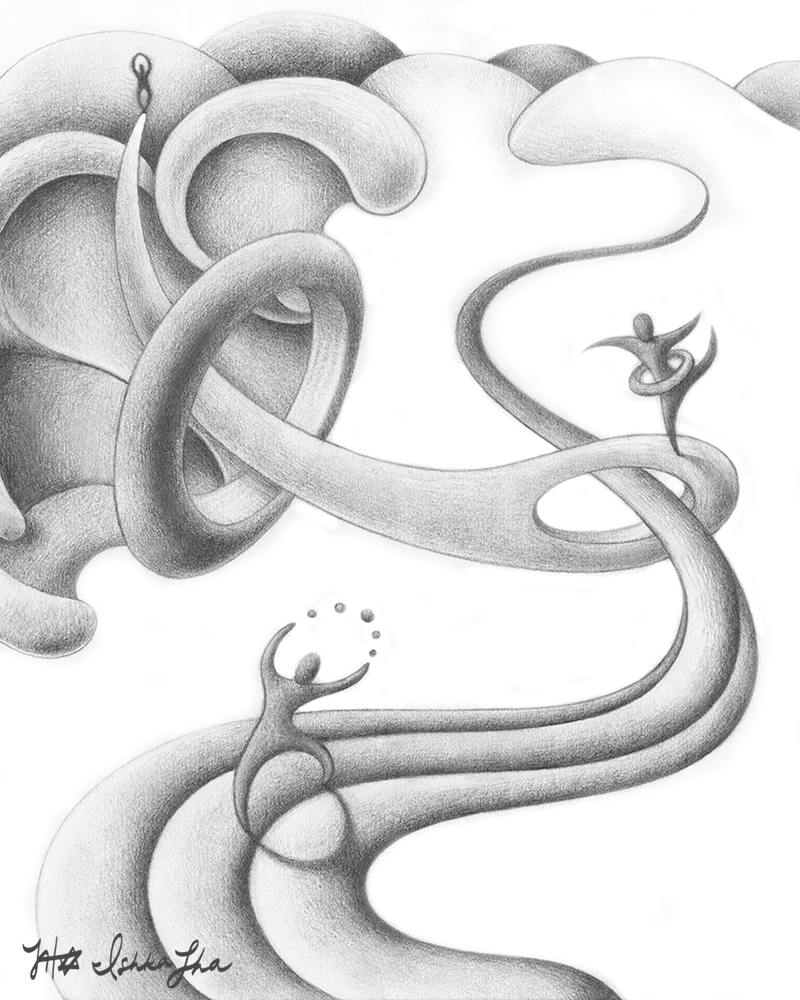 Threading the Needle
(graphite on paper - 9"x12")
Daylight,
full of small dancing particles and the one great turning,
our souls are dancing with you,
without feet,
they dance.

Can you see them when I whisper in your ear?
All day and night,
music,
a quiet,
bright reedsong.

If it fades, we fade.
—Rumi
While up at my childhood home and ranch (still clearing it all out for the new owners, for those of you who have been following that journey), I dedicated some time on the back kitchen porch to this new little drawing, another addition to my
Drawing From Within
series. Like my process for all the work in this particular series, I approach this creative time as an opportunity for me to drop my big ideas, and allow for a drawing to take me on a journey, instead of the other way around.
No concepts. No prayers. No mind time.
One of my favorite ways to draw...
Lately, I've been treating this series as a pretty serious (and really fun!) consciousness experiment. I've been reflecting a lot on how this particular way of making art affects my mood, my sense of fulfillment, and how I relate to the world at large, and I've been taking lots of notes.
For years, I've held that my creative practice is my main spiritual practice. It is my way of connecting to big energy, to
source energy,
to the infinite depths of all that is; and allows for my unique blueprint to take shape. It enables me to shine. It is my quiet reprieve. It creates more feelings of spaciousness. Without art, without the act of making it and sharing it, my soul's brilliance would slowly fade and burn out. Without following that innate passion—without pursuing those sparks of inspiration—there would be no path for me, no way to go that would truly lead me
home.
And so, you best believe—I practice
Art!
It is my solace, my magic cauldron, my own personal meditation.
Also, the deeper I study and explore each facet of the many creative processes I've developed over the years, the more I realize how much more I am able to know myself and the world around me. I am not just engrossed in the act of making art, I am also zooming out one layer further, and studying the "me" which is affected by making it. I am the meditator, and I am that which observes the meditator. The more I study myself in this way, the better I am able to teach others how and
why
to apply these creative practices in their own life.
And
this
, my dear, is the task at hand.
I am currently developing curriculum for a group program which is based on the drawing practice I am now immersed in (within the context of my
Drawing From Within
series) so that I can better serve my people--YOU!--in exploring and experiencing
real
personal growth with a regular intentional drawing practice. Not only will you be able to engage with the art I am already publishing for you on a monthly basis, you will
also
have the opportunity to learn and apply the same methodology I am using to create your own work, with regular guidance from me, and in circle with some sweet community.
The benefits of doing this kind of creative work reach far beyond my own personal journey and story. They are accessible to anyone who learns these practices and applies them to their own art making. If you embark on this path with me, the shifts in awareness you can access with regular practice will also naturally ripple out to your day to day experiences (beyond pencil and paper), and improve your overall quality of life—and
that,
my friend, is where the real treasure lies.
If this topic piques your interest, please click the link below to let me know. You'll be among the first to be notified when enrollment opens, and I'd be honored to work with you.
The program will be available for applications this winter, so stay tuned!
Yes, I'm Interested!
Drawing From Within

Threading the Needle
is the newest release from my series,
Drawing From Within,
which I began at the start of this year. Each drawing in this series is an expression from my heart, made completely in the moment with no references, concepts, or pre-conceived ideas when I sit down to draw, and usually completed within 1-3 short sittings. The mythology of such a piece unfolds in the making, and largely after it's finished. In a way, each of these new works is like a journal entry, a ventilation of energy, emotions, and thoughts—very intimate and ephemeral. This kind of art making process has been very therapeutic for me throughout my life, and I want to share its healing effects (in the form of physical art) with
you
on a more regular basis. I have committed to releasing one new work per month from this series for one year.
Purchase the original drawing here and click on the "Original Art Piece" tab for pricing and wall preview tools.

An original work of art is an incredible treasure. It comes hand-signed, and is truly one of a kind. I want to make more of my original art accessible to my community by offering these smaller session drawings at more affordable prices than my paintings and larger works.

Purchase fine art prints and products based on this drawing.

This image is available as a fine art print on paper, canvas, metal, wood, or acrylic (with custom framing options). It's also available on my new product line of tote bags, pillows, and mugs.

I suggest subscribing to my newsletter so that you get word on new releases like this one and can take advantage of the sale I run for 3-7 days after the release.

If Threading the Needle speaks to you, please consider purchasing the original, a print, or a product based on it today. Your patronage keeps me creating healing art for the world and feeds my family. Your contributions bring about more MAGIC AND LIFE!


Thanks for Your Continued Support,